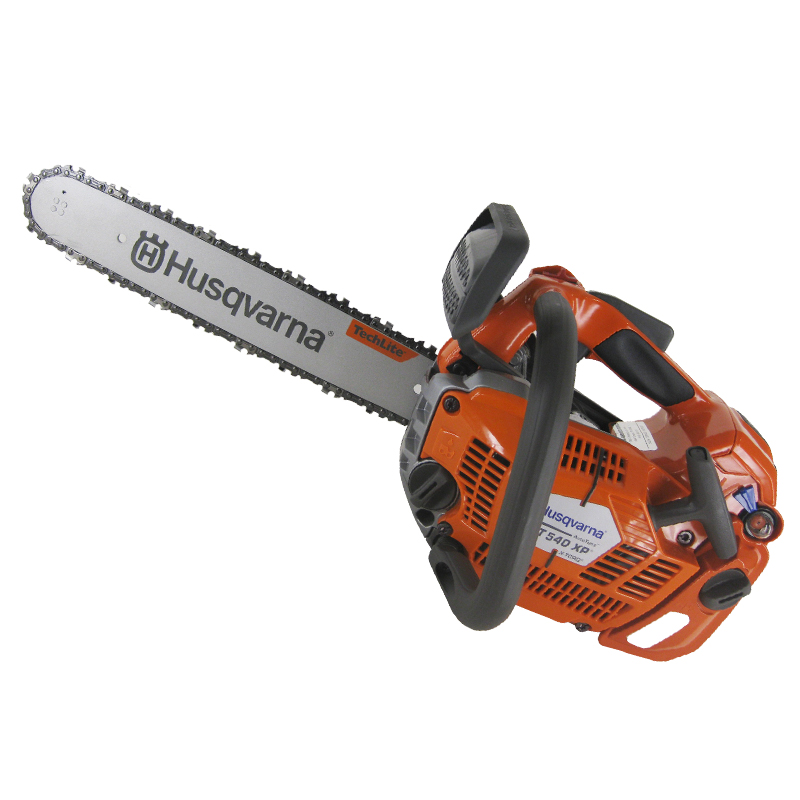 Husqvarna T540 14" Climbing Saw
The T540 features a 2.4 cu. in., 39 cc, 2.4 hp engine. Weight excl. cutting equipment is 8.8 lbs. Chain pitch .325 x .043.
The T-540 is auto-tune which compensates for different fuels, altitude, humidity, temperature and clogged air filters. The top handle grip size can be set in three alternative sizes, to perfectly fit your hand. Air-injection system keeps dust and debris out of air filter and the convenient flip up tank caps are easy to fill.
Engine Specification :
Cylinder Displacement:
37.7 cc
Power Output:
2.4 hp
Maximum Power Speed:
10,200 rpm
Fuel Tank Volume:
11.5 oz.
Fuel Consumption :
464 g/kWh
Idling Speed :
3000 rpm
Spark Plug:
NGK CMR6H
Electrode Gap:
0.02
Maximum Torque:
1.79 Nm/6900 rpm
Lubricants:
Oil Tank Volume:
.42 US pint
Oil Pump Type:
Adjustable Flow
Cutting Equipment:
Chain Pitch:
.325
Chain Guage:
0.43
Bar Length:
14"
Chain Speed-Max. Power:
63.65 fts
Chain Speed @ 133% of Max. Engine Speed:
85.65 fts
Overall Dimensions:
Weight-Power Head Only
8.6 lbs.