Splicing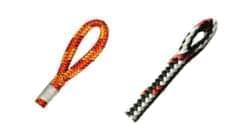 American Arborist Supplies has certified splicers on staff and can meet all of your splicing needs. Our standard eye splice for climbing ropes is a 1" eye. Most of these are sewn eyes. Some ropes, however, cannot be sewn and will be hand spliced.

Accessory snaps and thimbles can be added to any splice. Order the hardware you need and add any other information concerning the splice in the comment section of your order at check-out.

All bull rope splices are standard 5" eyes and also can have hardware added to them.
Allow 3-5 days for splicing/sewn eyes.

If you have any special splicing needs such as lanyards longer than our stock items, or want custom items spliced please call Customer Service for availability and pricing.