Portable Winch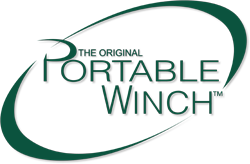 The PCW5000 is a lightweight, portable, gas-powered winch, with 2200 lb (1000 kg) pulling capacity. If you ever need to bring down hung-up trees, pull out-of-reach logs, or get a vehicle un-stuck the Portable WinchTM is for you.

Weighing only 35 lb (16 kg), the Portable WinchTM is easily carried and can be anchored to anything using the 6' (1.83 m) long sling provided or the hitch plate for vehicles. We also offer a wide range of accessories to use with the Portable WinchTM.
In addition to the PCW5000, there are two other winch models available. The PCW3000 gas powered winch with a pulling capacity of 1550 lbs weighing 20 lbs. and new for 2018 the PCW3000-LI battery powered winch also weighing only 20 lbs. with the same pulling capacity as the PCW5000 @2,200 lbs.