Tree Tech Micro-Injection Systems
Chemicals DO NOT qualify for Free Shipping.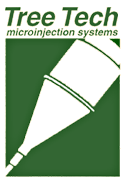 The Tree Tech® Microinjection System minimizes the loss of administered solutions to the surrounding environment, while at the same time maximizing their efficacies. Now you can effectively treat your trees with a full line of nationally labeled products. Tree Tech fungicides, insecticides, herbicides, bactericides, and nutrients are packaged in cases of 100 or 25 microinjection units.
The Tree Tech injectible units are easily installed in minutes by drilling a pilot hole in the tree trunk with an 11/64" bit and then tapping the unit into the tree trunk with a plastic-faced or rubber mallet.
Please call for quantity case discount pricing.