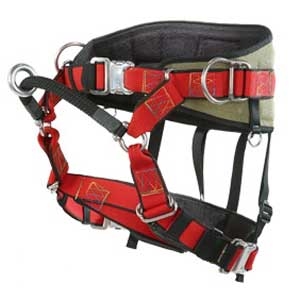 Komet - Butterfly II
The Komet Butterfly 2 Harness is the new improved version of the Komet Butterfly climbing saddle. It is a Sliding "D" style harness with a replaceable slide strap. The design has been improved by broader, deeper more comfortable back support and broader wider more comfortable leg loops. It also has quick double action connectors. The harness is very lightweight with excellent center of gravity.
Weighing in at less than 4 lbs., this saddle sports wide padding in the back for very comfortable lumbar support. The Butterfly has an adjustable leg-strap suspension system that supports each thigh independently and is contoured to alleviate pinching in the wearer's crotch.
Size Small fits waist size 30"-46".
Customers who purchased this product also purchased: