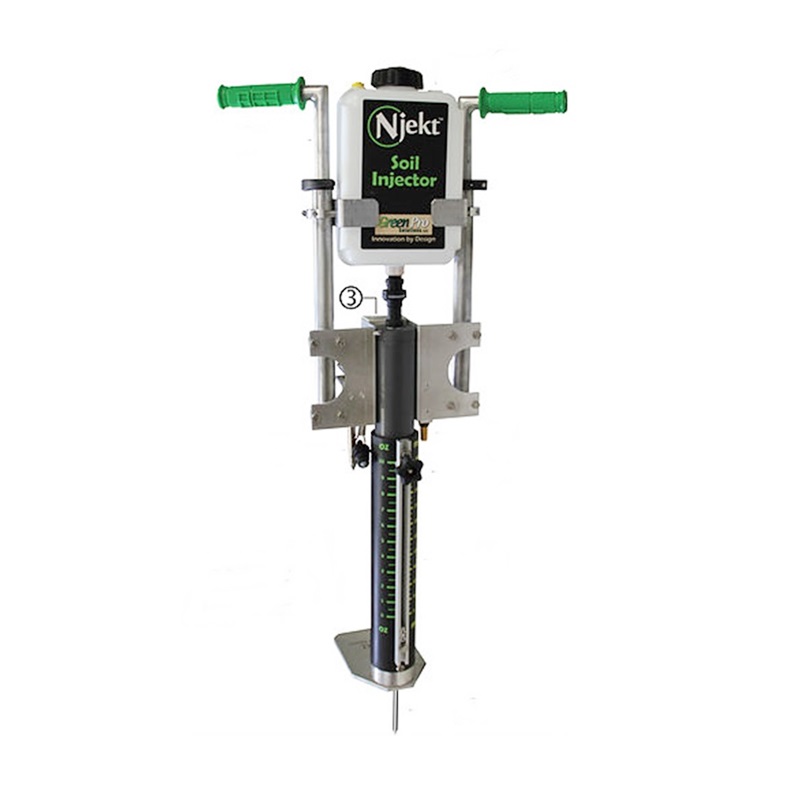 NJEKT Soil Injector
Designed and tested by tree industry professionals, the Njekt™ Soil Injector makes soil injections the most profitable part of your day.

The NJEKT is the largest single stroke injector on the market for plant health care! It can be used with all products, including liquid fertilizer, and does not require a power source or gravity to operate.

Adjustable height handles can be rotated inward for ease of operation in narrow places, and the handle height can be positioned to meet the applicator's preference.

1. Handle Adjustment - Unlimited adjustments by using NEW quick release handle.
2. Liquid Source - Use the removable tank, a modified backpack sprayer, or a tank you already have.
3. Digital Display - Shows the number of injections.
4. Injection Needle Storage - Additional slot for one extra injection needle.
5. Injection Counter - Counts the number of injections.
6. Calibration Scale - Adjust from 0 - 10 oz. (0 - 300 ml).
7. Fill Chamber - Up to 10 oz. per insertion.
8. Injection Needle - 3", 6" or 9" lengths.

The Njekt™ system includes the Njekt Injector, 1 gallon removable treatment tank, one Injection Tip (6") and 4 oz. Teflon oil. Optional are 3" and 9" tips.