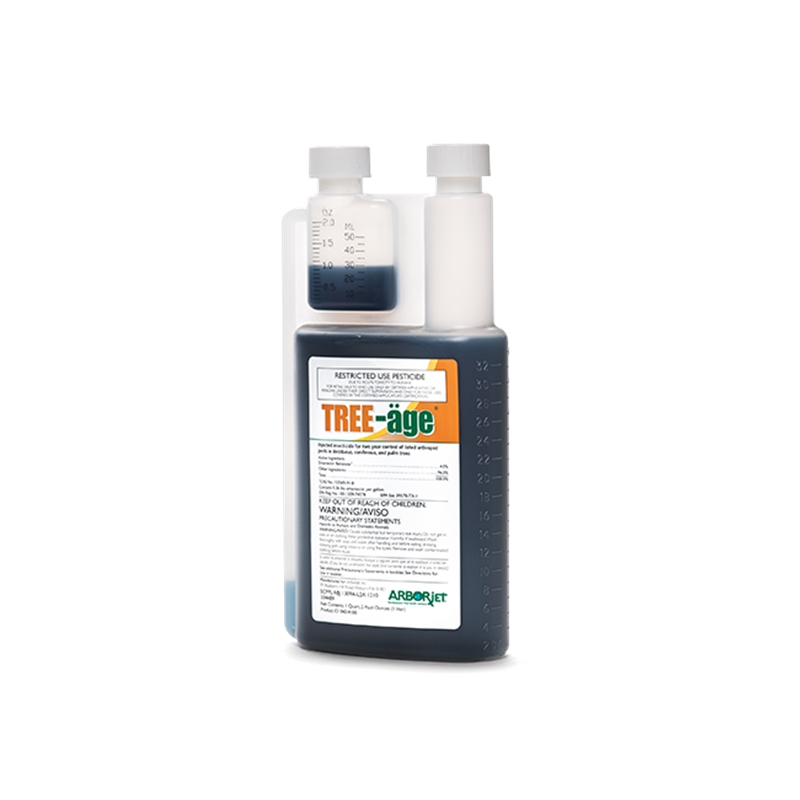 Arborjet TREE-äge - Case
Case of 8 liter bottles.
Injected oil-based insecticide for 2 year control of listed arthropod pests in deciduous, coniferous, and palm trees. TREE-äge® Insecticide may be delivered through Arborjet injection systems into the tree's vascular tissue to assure even distribution and consistent results. It has proven in independent studies to have high levels of efficacy and 2 year control against Emerald Ash Borer. TREE-äge is now labeled for broad spectrum insect control including Bark Beetles, Caterpillars, Coneworm, and more.
TREE-äge provides effective treatment for:

Pine Coneworm, Pine Cone Seed Bug, Tent Caterpillars, Western Spruce Budworm, Winter Moth, Bagworm, Fall Webworm, Gypsy Moth, Mimosa Webworm, Oak Worm, Tussock Moth, Leafminers, Honeylocust Plant Bug, Pine Needle Scale, Red Palm Mite, Sawfly, Clearwing Borers, Flat-headed Borers (including adult and larvae of Emerald Ash Borer), Roundheaded Borers (excluding Asian longhorn Borer), Scolytids, Ips Engraver Beetles, Mountain Pine Beetle, Southern Pine Beetle, Spruce Beetle, Western Pine Beetle, Pinewood Nematode.
Case of 8 1-Liter bottles of TREE-äge.
*TREE-äge® Insecticide is a Restricted Use Pesticide and must only be sold to and applied by a state certified applicator*

View Product Label:

View Informational Product PDF