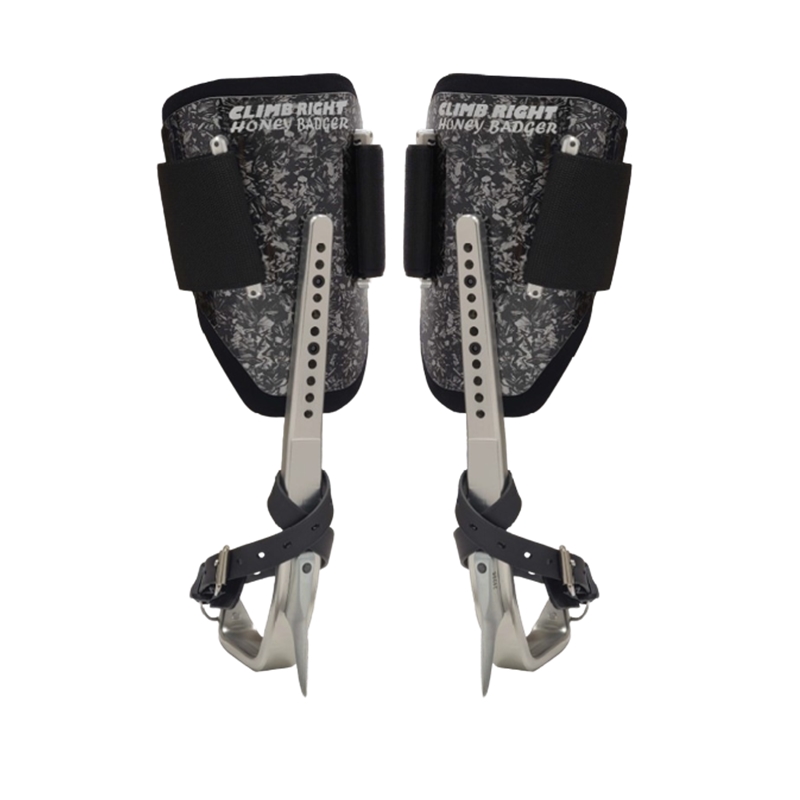 Honey Badger Aluminum Climbers
New for 2023! Introducing Climb Right's latest aluminum climber, the Honey Badger Climber. Designed, machined, and assembled in the USA. Honey Badger Climbers feature lightweight contoured cuffs and climber shanks made of aluminum. Shipped fully assembled.

Honey Badger Climbers start with USA made 7075 aerospace-grade aluminum formed into ergonomically shaped "J" hooks. The cuff is also made from aerospace-grade aluminum for maximum support of the lower leg. The aluminum blanks are formed to the basic contour of your calf for your comfort.

Vinyl-wrapped for style, the cuff is height adjustable 16" to 20" and angle adjustable at 7° or 10°. The washable and replaceable foam pads feature molded construction with ventilation channels for air circulation. 86 square inches of surface area offers maximum comfort and support. Hook and loop fastening upper straps offer infinite and easy adjustment for a comfortable and snug fit. 4" wide for comfort and support.

The lower straps feature Climb Right's rounded-edged ring. Rounded edges mean no sharp edges to cause excessive wear on the hooks. Straps are weather-resistant and stretch resistant coated webbing. Our world-sourced gaffs are flame hardened for strength and durability. These forged gaffs are held in place by two screws for quick change with the included Allen wrenches. Includes leather gaff guards to protect your gaffs.

A Honey Badger exclusive feature is the integrated tool pouch in the upper strap. No more searching for your Allen wrenches, as they are easily reachable, tucked into the upper strap. This makes our "Quick Change" gaffs Quicker Change gaffs!

Maximum allowable weight of user and gear is 350 lbs.