Splicing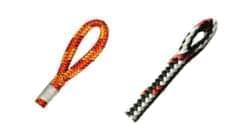 American Arborist Supplies has certified splicers on staff and can meet all of your splicing needs. Our standard eye splice for climbing ropes is a 5" eye. When using this type of eye you can easily girth hitch your carabiner in a manner that prevents the carabiner from turning and being cross loaded. We also can splice a tight eye, however carabiners can shift and move causing cross-loading and subsequent failure.

Accessory snaps and thimbles can be added to any splice. Order the hardware you need and add any other information concerning the splice in the comment section of your order at check-out.

All bull rope splices are standard 5" eyes and also can have hardware added to them.
Allow 2-3 days for splicing.

If you have any special splicing needs such as lanyards longer than our stock items, or want custom items spliced please call Customer Service for availability and pricing.